PCD Franchise Business Opportunity in Nagaland– In a state with a population of about 19.79 Lakhs, we are hoping to achieve the best results that our medicines line can display. With our quality medicines, our company is releasing an opportunity to invest in a business that is both profitable and easy to do. Therefore, pharma professionals of the state should be ecstatic for this brilliant opportunity. We are unveiling for investment in a PCD Franchise Business Opportunity in Nagaland. Therefore, this will be a great chance for you to display your passion for the Pharmaceutical Industry.
Texas Pharmaceuticals is a Pharma PCD Company that has been in the business of providing the public with quality medicines for the improvement of the health of the people in Pan India. Our goal is to provide affordable medicines to people all around India. Therefore, our Pharma Franchise Opportunity in the areas of Mon, Dimapur, Kohima, Mokokchung, Peren, and Phek, etc, will be a lucrative business opportunity. Hence, we are calling upon all pharma professionals of the state to come and join us with our PCD Franchise Business Opportunity in Nagaland.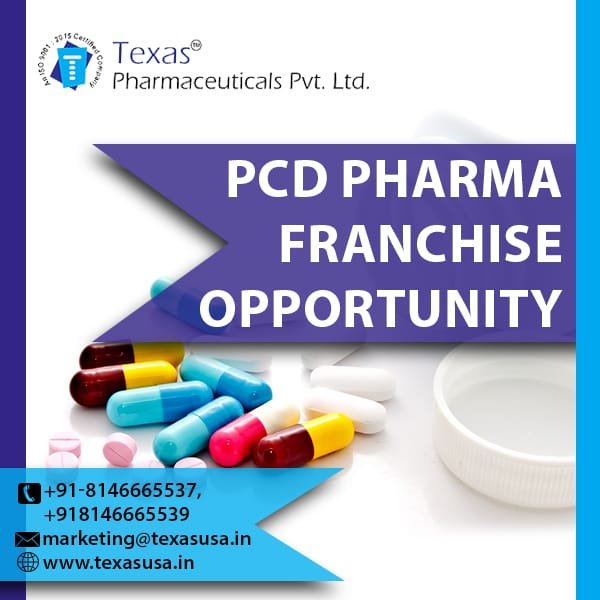 For any sort of assistance taking part in the Pharma Franchise business with a reputable company like Texas Pharmaceuticals, you may contact us at any time. You may call us on the numbers +91-8146661517, +91-8146665537, or +918146665539, or send us an email at marketing@texasusa.in.
Reasons to Join a PCD Pharma Franchise as Explained by Texas
Texas Pharmaceutical is a fine institution for all things Pharmaceutical. We are a company that sees a lot of potential in the state of Nagaland for Franchise Business. We believe that quality has been our ladder to success for the past few years now. Therefore, here are some reasons you should do business with our Company.
Competent and well-trained employees.

Good manufacturing practices.

Good and ethical Laboratory practices.

Following all the directives of the Pharma institutions of India.

Sterile manufacturing units and warehouses.

Using pure and accurate substances for medicine manufacturing.
Benefits of Investing in PCD Franchise Business Opportunity in Nagaland
The PCD Franchise business is highly in demand these days because of the rising need for medications in Pan India. This is because India is in dire need of quality medications. People are looking for new methods to get into the Pharmaceutical Business because of the success of the Pharmaceutical Industry. Here are some factors as to why this business is opted for by all:
Low investment cost involved.

High Investment benefits.

Free of cost promotional benefits.

Enjoying the benefits of Monopoly Rights.

The revenue returns prove to very fruitful.

A chance to run an independent business.

Low workload.

A business that can be done from the comfort of your home.

Monopoly Rights benefit our clients.

Post the introduction of GST, this business has many benefits.
Therefore, we are a Pharma Franchise Company with a lot of manpower and resources to run an established business with Texas Pharmaceutical in the state of Nagaland.
Well-Built Supply Chain for Pharma PCD Franchise in Nagaland
In Nagaland, Texas Pharmaceutical is looking to expand our Pharma PCD business by giving out exciting deals and attractive offers to our potential Pharma Franchise associates. In the state, we are looking forward to building up our brand for the betterment of the healthcare system of India one state at a time. Therefore, here is a list of places that we have narrowed down for giving out our Pharma Franchise Business Opportunity in Nagaland.
Dimapur

: Dimapur is a district in Nagaland that has the largest population and the largest area. With the number of people reaching a population of about 378,811, this is a district with a lot of hustle and bustle and therefore makes for a great location for the PCD Pharma business.

Mokokchung

: With a literacy Percentage of about 91.62, this place is surely the most urban of all others. Therefore, it makes for an ideal location for this business.

Kohima

: With a population density of about 183 people, this is a fairly popular area in Nagaland. The capital of the said state, this is the best place for conducting the Pharma Franchise Business.

Longleng

Mon

Peren

Phek

Tuensang

Wokha

Kiphire

Zunheboto

Noklak
Therefore, Nagaland is a favorable place for doing this business. The best part about conducting this business is that you get to provide your community with quality medicines. Therefore, contact us today to apply for this opportunity.
Adhering to Industry Regulations for Booming Franchise Business
Here at Texas Pharmaceuticals, we aim to be an epitome of reliability and progressive living. With a new set of medicines being released each month, we are one company that has been in demand since day one. Here are all the criteria that the government has set that we follow religiously.
The guidelines presented by the ISO and the WHO.

We also make sure to adhere to the rules and regulations that are provided by the GMP and GLP.

And, all our medicines go through intense testing and are approved by the DCGI and the FSSAI.
Therefore, connect with our fine establishment for this opportunity of a lifetime. Contact us for a great customer-client experience with our 24-hour customer services.
Contact Us
Name: Texas Pharmaceuticals
Address: S.C.O NO – 4, Dev Shopping Complex, Bhabat Rd, Zirakpur, Punjab 140603
Contact: +91-8146661517, +91-8146665537, +918146665539
Email: marketing@texasusa.in