Top Pharma Franchise in West Bengal– The business of Pharma Franchise is a lucrative opportunity. And here at Texas Pharmaceutical, we are aiming to provide the Pharma professionals like retailers, wholesalers, distributors, producers, etc, an opportunity to have their own business in the state of West Bengal. We are a renowned name in the Pharmaceutical Industry. Also, we are a company with the largest number of DCGI and FSSAI approved medicines for distribution in Pan India. Today we aim to provide you the owner of the Top Pharma Franchise in West Bengal.
With our WHO-GMP certified plants spread all across the nation, we are a pharmaceutical establishment willing to go the extra mile for 100% customer satisfaction. All our products are based on the principles of reliability and quality. Therefore, Texas Pharmaceutical has quickly taken up the first position for being the Top PCD Pharma Company in India. Our motto is to provide India with the best medications in a short time frame. Therefore, we are going to be excellent partners to you in the business of running the Top Pharma Franchise in West Bengal.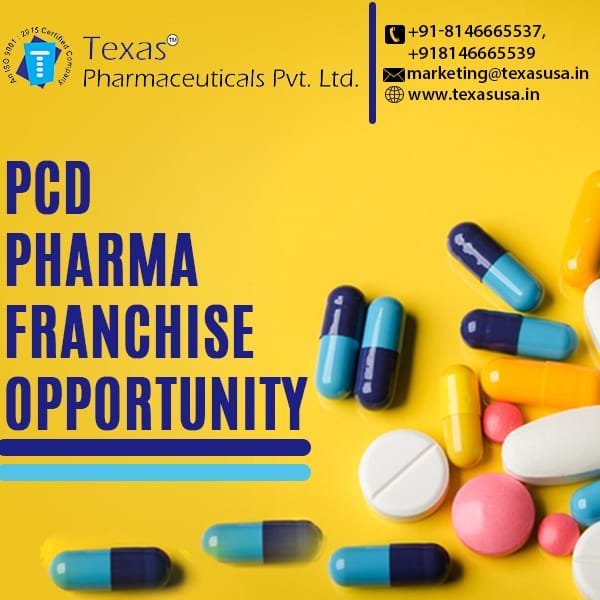 To know more about our incredible all medicines range or for more knowledge on our PCD Franchise opportunities in the state of West Bengal, you may reach out to us at any time. You may call us on the numbers +91-8146661517, +91-8146665537, +918146665539, or you may send us an email at marketing@texasusa.in.
Join Us for the Opportunity of Top Pharma Franchise in West Bengal
An industrialized state such as West Bengal is the perfect location for our Franchise Company in West Bengal. In fact, the calling of this business has increased a lot over the years. This change has become prevalent due to the rising number of cases of diseases and their varied types. Here are some factors that reflect the same:
The number of people on the death toll due to the cause of Dengue has gone to a number upwards of 23.

And, the risk of cardiac diseases has also increased over the years. In fact, between the years 1990 and 2016, the causalities due to cardiovascular diseases have doubled.

The number of people in the mortality chain has gone from 1.3 million to 2.8 million in recent history owning to the cause of Cardiac problems.

Moreover, in India, the rate of the number of people suffering from cancer has also increased as shown by a survey done in 2016, which came out with a resultant 106.6 new cancer cases per 100,000 people.
Texas Pharmaceutical- Best Choice for PCD Franchise Business
Texas Pharmaceutical is a company that values its customers the most. Apart from that, we are also attentive towards the needs of our clients and thus provide them various services in the competitive market. We make sure to provide them a monopoly in the market so that you would have the full authority to do this business. Also, we provide free of cost promotional and marketing inputs.
We own several manufacturing units all around the country.

Our pharma franchise company is certified by the ISO.

The medicines we produce are 100% effective with a long shelf life.

Our medicines are made with accurate composition and the purest ingredients.

And, our medicines are made under the guidance of a well-trained staff.
There are numerous leading Pharmaceutical Company but choosing the best amongst is quite tough. By Our Company follows all the quality guidelines being provided by the WHO Authorities.
Grab this Lucrative Pharma Franchise Opportunity in West Bengal
We are very much looking forward to this opportunity of PCD Franchise in the state of West Bengal. And, we are very sure that our services in the state will be able to provide all with quality medical supplies and with various medical benefits. Here we are setting up our base in all the districts of West Bengal for the Pharma Franchise venture. Some of the top areas we want to set up this business are:
North Twenty-Four Parganas

South Twenty-Four Parganas

Barddhaman

Murshidabad

Paschim Medinipur

Hugli

Nadia

Purba Medinipur

Haora

Kolkata

Maldah

Jalpaiguri

Bankura

Birbhum

Uttar Dinajpur
Therefore, these are all the places that will be well suited for this business in the state of
Invest in the Hassle-Free PCD Franchise Business Venture
The PCD Pharma business has been a great exposure for Pharma professionals who want to enter this career opportunity and be the leaders of their respective businesses. Therefore, if you are looking for reasons to invest in this lucrative business opportunity, we are providing you the best services for Franchise business in the state of West Bengal.
It requires a low investment which reduces the risk for the investors thus people are investing in this sector.

It provides you the chance to be your boss; one does not have to work under any pressure.

This business provides a good profit, the more products you will sell the more profit you earn.

You get to save a lot of investment in factors like administration, marketing and setting up, etc.

You can have your business in your city near to your home unlike another career in the Pharma industry.
Hence, there are a lot of reasons to invest in a successful PCD Franchise Company in West Bengal. With the right Company, you will have a chance to work with products that are renowned in the pharma market.
Contact Us
Name: Texas Pharmaceuticals
Address: S.C.O NO – 4, Dev Shopping Complex, Bhabat Rd, Zirakpur, Punjab 140603
Contact: +91-8146661517, +91-8146665537, +918146665539
Email: marketing@texasusa.in